COOL PEACH ICED TEA
Serves 8
Fresh peaches complement antioxidant-rich green tea in this refreshing creation by Chef Chris Smith, The Diabetic Chef®.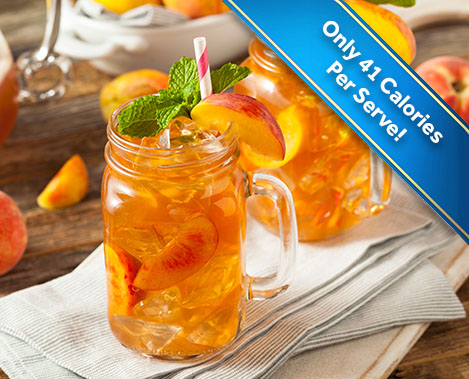 Ingredients
4 peaches, peeled, pitted, sliced
9 cups water, divided
24 sticks Equal Classic Zero Calorie Sweetener
8 green tea bags
2 cups lite vanilla flavoured non-fat Greek yogurt
1 medium size ripe banana, peeled, sliced
12 sticks Equal Classic Zero Calorie Sweetener
3 tablespoons lemon juice
2 cups frozen unsweetened whole strawberries
1 cup frozen unsweetened red raspberries
Additional whole strawberries, optional
Preparation
Place peaches, Equal Classic Zero Calorie Sweetener and 1 cup of the water in blender or food processor. Puree until smooth; set aside.
Bring remaining 8 cups water to boiling in a large saucepan. Add tea bags. Steep 5 to 6 minutes.
Remove tea bags; discard. Stir in peach puree.
Refrigerate tea until ready to serve.
Serves 8.
Nutrition Information (per serving)
Calories: 41
Protein: 1 g
Carbohydrates: 10 g
Fat: 1 g
Cholesterol: 0 mg
Sodium: 11 mg