CHOCOLATE CHIP FUDGIE CUPS
Serves 2 dozen
This cookie has something for everyone. The crust is chocolate chip cookie dough; the filling is a rich brownie. They take a little time make, but are well worth the effort.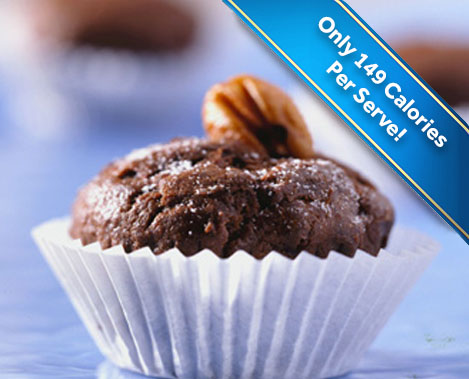 Ingredients
CHOCOLATE CHIP DOUGH
1/3 cup butter, softened
1 egg
1 teaspoon vanilla extract
8 sticks Equal Classic Sweetener
1/3 cup firmly packed brown sugar
1 cup all-purpose flour
1/2 teaspoon baking soda
1/4 teaspoon salt
1/2 cup mini semi-sweet chocolate chips
FUDGE NUT FILLING
1/2 cup unsweetened applesauce
6 tablespoons unsalted butter, softened
2 eggs
1 teaspoon vanilla extract
24 sticks Equal Classic Sweetener
3/4 cup all-purpose flour
6 tablespoons unsweetened cocoa
1/3 cup chopped nuts
1 teaspoon baking powder
1/4 teaspoon salt
Pecan halves, optional
Preparation
For Chocolate Chip Dough, beat butter with electric mixer until fluffy. Beat in egg and vanilla until blended. Mix in Equal Classic Zero Calorie Sweetener and brown sugar until blended. Mix in combined dry ingredients. Stir in chocolate chips. Form dough into circle about 1/2-inch thick. Wrap tightly in plastic wrap and freeze while preparing Fudge Nut Filling.
For Fudge Nut Filling, combine applesauce, butter, eggs and vanilla until blended. Stir in combined dry ingredients until well combined.
Preheat oven to 350°F. Line 24 mini muffin cups with paper liners; set aside.
Remove Chocolate Chip Dough from freezer. Spread approximately 1 rounded tablespoonful of dough in each mini muffin pans. Fill each with Fudge Nut Filling to top of cup. Top with a pecan half, if desired.
Bake 15 to 18 minutes or until wooden pick inserted in center comes out clean. Let cool in muffin pans about 5 minutes. * Remove from pans and cool completely on wire racks.
Serves 2 dozen
Nutrition Information (per serving)
Calories: 147
Protein: 10 g
Carbohydrates: 27 g
Fat: 1 g
Cholesterol: 5 mg
Sodium: 37 mg
Exchanges
Milk – 1
Fruit – 1