STRAWBERRY LIMEADE
Serves 6
A pretty pink drink that is high on flavor, but low in calories thanks to Equal® sweetener. You get all the nutritional benefits of the fruit without the calories from sugar.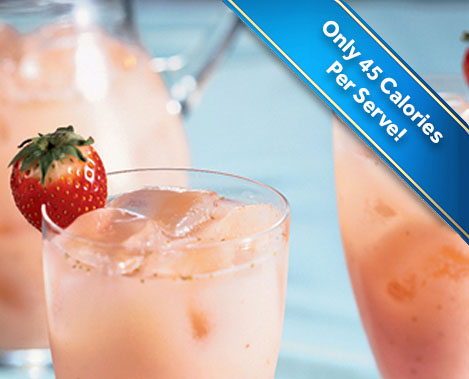 Ingredients
1-1/2 cups quartered fresh strawberries
1 cup lime juice
4 cups water
36 Sticks Equal Classic Sweetener
Ice cubes
6 small whole strawberries, optional
Preparation
Process quartered strawberries and lime juice in blender until smooth. Combine strawberry mixture, water and Equal Classic Sweetener in a pitcher.
Pour over ice cubes in tall glasses, garnishing each with a whole strawberry, if desired.
Serves 6
Nutrition Information (per serving)
Calories: 45
Protein: 1 g
Carbohydrates: 12 g
Fat: 0 g
Cholesterol: 0 mg
Sodium: 8 mg
Exchanges
Fruit – 1/2